MIDDLE GROUND
by Martin Coomer
The Big Issue,
August 13 - 19 2007, No.757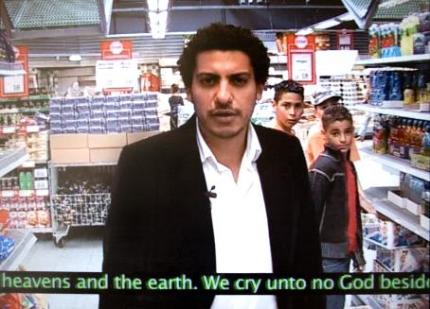 WAEL SHAWKY, The Cave, 2005, video still

Part of London-wide season of exhibitions and events about the Middle East, Recognise organised by curator and artist Predrag Pajdic, focuses on art inspired by - or produced in - the region, and aims to provide an alternative to images of conflict and destruction delivered by media. In doing so, the show allows various voices - Muslim, Jewish, Christian and atheist - to speak through an impressive installation of film, photography and sculpture.

Whilst being political, the work is also elegant and poetic and, in this vast, semi-dark warehouse, much of it is lent an air of disarming theatricality. In his film Iftar, Egyptian artist Ayman Ramadan presents a group of men breaking the daily fast in painterly shadows complete with an Arvo Part soundtrack. Holland-based Iraqi artist Nedim Kufi shows two large photographs, one of a toddler proudly holding aloft a tricycle in a courtyard, the other the same courtyard poignantly empty - an illustration of the gaps in family albums caused by war and displacement.

While these pieces provide the most instantly memorable images, the real meat of the show can be found in the second space where rows of metal shelves contain a dozen or so video monitors. Pacing these narrow avenues, you're bombarded by sound and imagery so that an atmosphere of discordancy occurs, intentional or otherwise. There's anger, wit, reflection and irreverence here.

In his video The Cave, Cairo-based artist Wael Shawky walks round a supermarket reciting a chapter from the Koran, a comment about knowledge and power and the uneasy relationship between religion and capitalism.

In Marco Polo, by US artist Lisa K Blatt, pensioners in a swimming pool play a version of the children's hide-and-seek game, shouting out "Osama" and "Bin Laden" instead of the name of the Venetian explorer. By contrast, Lebanese artist Ali Cherri's In Cercle Autour Du Soleil, is a quiet meditation about taking refuge in the 'nowhere' of darkness.

If at times some of the exhibits are in want of interpretation, the show truly fulfils Pajdic's intention of presenting a complex portrait of a part of the world so often reduced to and defined by intractable arguments.