ROZA EL-HASSAN
6 years ago - 30/06/2007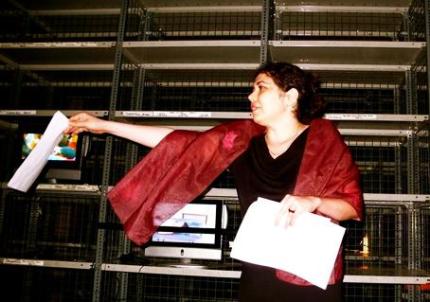 Roza El-Hassan,
performing during the opening of Recognise
on 22nd of June 2007
"...The main subject of my work was the experience of living with an Arab name in Europe. It is somewhat about the projections one experiences in Europe while living with Arab identity in Hungary, or Europe. Actually, at first there were all these projections and imaginations and questions people asked me about my identity, again and again, whenever I introduced myself and told my name..."
From the interview with
Roza El-Hassan
THE MIDDLE EAST IN FOCUS
FACT
6 years ago - 29/06/2007
As part of the Liverpool Arabic Arts Festival, FACT is showing a series of films curated by Predrag Pajdic exploring the culture, society and history of the Middle East.
The season of short films will be shows as part of SEEN, FACT's adventurous and experimental film programme, coinciding with Anna Lucas' exhibition in Gallery 1 & 2, Here and Your Here which contains a new commission documenting an exploration of the deserts of Jericho and Sinai.
The Liverpool Arabic Arts Festival is in its sixth year. It's the only festival of its kind in the UK and is a city-wide two week celebration with over twenty events taking place at different venues.
Running from 01 to 15 July 2007, the programme features a host of cultural activity from across the Arab world in the fields of visual arts, poetry, theatre, music, dance, film and food which take place in a variety of venues. The Liverpool Arabic Arts Festival provides a platform for international, national and local artists and communities and is expected to attract audiences, not just from Merseyside, but from across the UK and beyond.
At FACT, SEEN brings The Middle East in Focus with THIS DAY, three special screenings.
THIS DAY: Reality Check
The Box 04 July 6.30pm
Reality Check takes stock of everyday concerns and behaviours such as love, seduction, social manners and gossip. Artist Larissa Sansour will be at the screening to discuss her work.
THIS DAY: Replay
The Box 11 July 7.30pm
Replay examines the nature of memory and knowledge. The screening will be introduced by Karen Allen, FACT's Curator of Moving Image.
THIS DAY: Travellers Tales, programme one
The Box 18 July 6.30pm
A programme of short films, which explore travel, migration, borders and checkpoints. THIS DAY Curator Predrag Pajdic will introduce the screening.
FACT
(Foundation for Art and Creative Technology)
88 Wood Street
Liverpool L1 4DQ
AVI MOGRABI
AVENGE BUT ONE OF MY TWO EYES
6 years ago - 28/06/2007
Second Run Tuesdays - Free Film Night 10th July
@ The Fleapit, Columbia Road, London E2

"Avenge but One of My Two Eyes is one of the great essayistic films of modern times" Mark Cousins

"Documentary today should be constantly immersed in questions of this magnitude and always ready to tackle them with his astounding level of eloquence - anything less is a waste" Reverse Shot

Shot in the occupied territories, Avi Mograbi's controversial documentary film draws parallels between the Palestinian/Israeli situation today and the enduring myths of Samson and Masada. The film is a powerful and frequently chilling lament of the continuing cycles of violence rooted in the past and threatening to engulf everyone's future. With the roots of so much real-world conflict left unexamined by today's restless media, this film reminds us just how vital filmmakers like Avi Mograbi are.

Screening Details:
Tuesday 10th July
Avi Mograbi, Avenge but One of My Two Eyes, 100 min, 2005
Free entry
Film starts at 8pm

The Fleapit
49 Columbia Road
London E2 7RG
Tube: Old Street
Buses: 8, 26, 48, 55

www.thefleapit.com
0207 033 9986

For more information about the film, please go to: www.secondrundvd.com
GUIDED TOURS
RECOGNISE
6 years ago - 23/06/2007
Every Sunday at 3 pm,
RECOGNISE
guided tours will take place at Contemporary Art Platform. Find out more about the concept behind the project, the artists and their works.
Free admission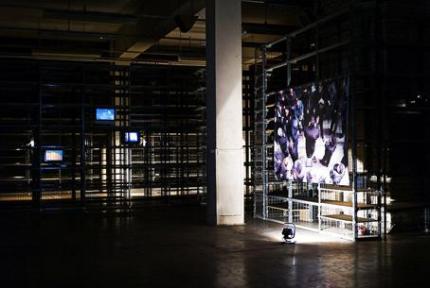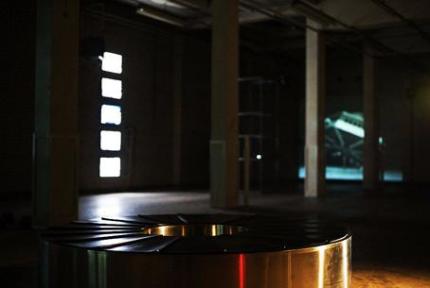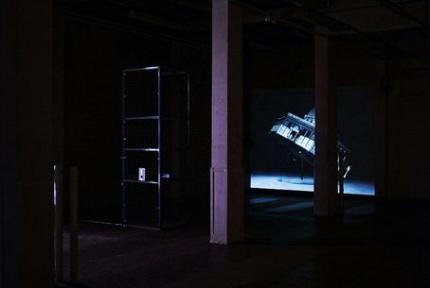 photos by Martin Effert ©
Contemporary Art Platform
1 Thane Villas London N7 7PH
T: 077 344 340 66
Free admission
Opening hours:
Wednesday - Sunday, 13.00 - 19.00
Tube: Finsbury Park (Victoria & Piccadilly lines)
Buses: 4, 19, 29, 153, 253, 254, 259
FRIDAY 22 JUNE 2007
6 years ago - 19/06/2007
ARE YOU READY TO
RECOGNISE?
6 years ago - 15/06/2007
If you are, please come to the
opening on June 22nd
7 - 9.30pm with a live art performance by Roza El-Hassan
and interventions by Mohamed Abdulla, Milica Tomic & Branimir Stojanovic
Until September 7th 2007

Contemporary Art Platform
1 Thane Villas London N7 7PH
Free admission
Opening hours:
Wednesday - Sunday, 13.00 - 19.00
Tube: Finsbury Park (Victoria & Piccadilly lines)
Buses: 4, 19, 29, 153, 253, 254, 259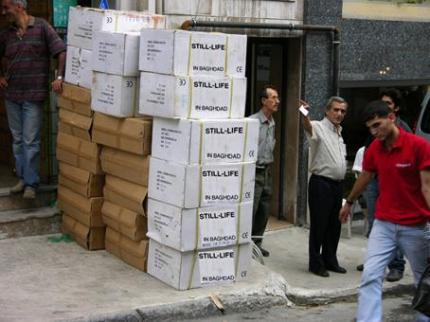 MOHAMED ABDULLA, Still Life Baghdad, Intervention, 2007
RECOGNISE
COMING SOON
6 years ago - 09/06/2007
"I find the events are too fast and too close to be able to understand them."
Artist Ali Cherri on the situation in Lebanon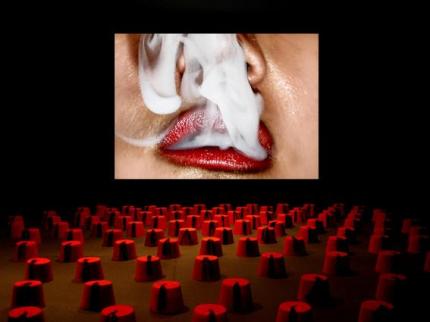 HILDA HIARY, TARABISH, multi-media installation, 2006
RECOGNISE
is a large-scale contemporary art exhibition opening Friday June 22, 2007 at 19:00 in an old warehouse in London's Finsbury Park. It will run until September 7, 2007.
The exhibition gathers a breath-taking range of works by over 40 international artists, many shown for the first time in London, which revolve around the subject of the Middle East. Parallel to the exhibition there will be screenings, talks, panel discussions, performances, and interventions. In the same breath it is the launch of a new contemporary art space in London.
The exhibition will include works by Mohamed Abdulla, Ziad Antar & Rasha Salti, Doa Aly, Oreet Ashery, Yasmeen Al Awadi, Tim Blake, Lisa K Blatt, Ali Cherri, Hassan Choubassi, Nemanja Cvijanovic, Tarek Al Ghoussein, Sagi Groner, Khaled Hafez, Roza El-Hassan, Susan Hefuna, Hilda Hiary, Mahmoud Hojeij, The Infinity Project, Emily Jacir, Koutaiba Al-Janabi, Lamia Joreige, Nedim Kufi, Dana Levy, Avi Mograbi, Rabih Mroué, Nada Prlja, Ayman Ramadan, Khaled Ramadan, Paul Ryan, Wael Shawky, Sadegh Tirafkan, Milica Tomic & Branimir Stojanovic, Jalal Toufic and Rachel Wilberforce.
Breathing new life into the region for a media weary audience, the exhibition will focus on a new visual culture of the Middle East, political, to be sure, but where the primary strength lies in the artists' work, not in their political or religious views.
Contemporary Art Platform