WOW
by William Longe
6 years ago - 30/08/2007
THIS WEEK - CRITICS' CHOICE
Recognise
6 years ago - 28/08/2007
TIME OUT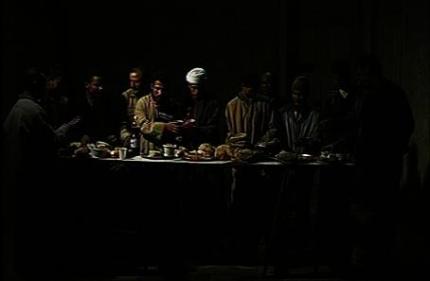 AYMAN RAMADAN, Iftar, 2004
An Intelligent selection of art all about the Middle East that quickly gets beyond Bin Laden, bombs and Baghdad to reveal glimpses of everyday lives and concerns. Don't let the creepy warehouse space put you off.
CULTURE SHOCKED
by Ossian Ward
6 years ago - 27/08/2007
TIME OUT
August 29 - September 4 2007, page 41
A group show by Middle Eastern artists avoids cliché says Ossian Ward, who finds Osama bin Laden's obituaries, Baghdad babies and blasphemous takes on Islam aplenty in 'Recognise'
***
Finsbury Park is not known as a hotbed of contemporary culture, unless, of course, you are an Arsenal fan who believes the gleaming Emirates Stadium to be a theatre of footballing artistry. Yet lurking behind the metal shutters of a disused warehouse, alongside the Ethiopian restaurant and Turkish kebab shops on Seven Sisters Road, is an intriguing, eerie installation of recent art focusing squarely on the troubled Middle East. The 30 or so works that make up 'Recognise', are displayed among old wire shelving units and are roughly tacked up or projected onto bare brick walls.
'Bin Laden is Dead' screaming a row of black posters. The debates and wishful thinking surrounding the Al-Qaeda leader's whereabouts and physical condition since 9/11 have made him a mystical, almost unreal, bogeyman. A pile of these provocative posters, made by Nada Prlja, a Macedonian artist living in London, is also stacked on a trolley to be taken away or distributed, their reverses printed with some of the propagandistic and downright false pronouncements of the Saudi extremist's untimely death, appearing on newspapers and websites from Washington to Warzisten (his current supposed hideout).
'Tomorrow is Mine', says a sizzling red neon light down a dark corridor, although unless you can read Arabic script, you have to take translator's word for it (much as anything we see or read needs to be questioned, or at the very least, taken with a pinch of salt). This work is also by Prlja, so it would seem she either wants to invoke the vengeful spirit of Osama bin Laden through her ominous words or, more menacing still, wants to brand the whole Arabic world as unscrupulously power hungry. But, as I have just learnt from her posters, nothing written is as straightforward as it seems, and besides, the fluorescent red-light glow is also located cheekily next to a back door, hinting that beyond the exit are new, tantalising pleasures to be had.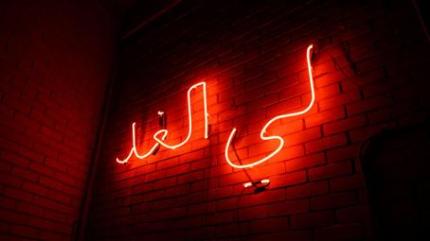 Red light district, NADA PRLJA, 'Tomorrow Is Mine'
, 2007
The position of artists living outside the region making work around the conflict in Iraq or Afghanistan is inevitable more problematic than the stance of those struggling to produce meaningful statements within a war zone. So while Rachel Wilberforce's 'Mirage' landscapes littered with destroyed white goods are beautiful images of the desert, they don't engage at a deeper level. On the rest of the evidence here, however, the successful pieces don't have to be made by 'embedded' artists at all - Paul Ryan's Powerpoint presentation, called 'The Point of Power' gets to the heart of the topic by shunting through slide after slide of pie charts and statistics revealing levels of inter-ethnic violence in Iraq and quantifying the countries with the biggest oil reserves.
Many of the artists in the show who are from Jordan, Syria, Iran, Israel or Palestine have been forced to continue their careers in exile, where the material means and lines of communication needed to make and show their work are more readily available. One such example is Nedim Kufi, an Iraqi-born artist who appears in a yellowed photograph as a smiling boy, clutching his brand new tricycle. In the next - an identically composed photo of the same street - Kufi is gone, because as an adult he left Baghdad to pursue his artistic dreams in the Netherlands, Faced with a lack of celluloid proof of his Lebanese heritage, filmmaker Rabih Mroué tries to reconstruct his past through a montage of childhood pictures accompanied by recordings of his voice at the time, supposedly taped and then delivered to friends across town as a means of communication when telephones were either not working or deemed too risky to use.
Some in this show, like Emily Jacir (who was born in Bethlehem, raised in Saudi Arabia, trained in Italy and now splits her time between studios in Ramallah and New York), have gained considerable fame as artist in the West. Her contribution to 'Recognise' is a skilful, miniature version of the kind of luggage carousels usually found in airports, except its puny diameter would scarcely be able to convey one suitcase, Instead, this futile, endless, travelator condemns its user to a rootless life of displacement and missed connections.
Even though the Middle Eastern voice is far too rarely heard in mainstream cultural circles, tales of immigration and emigration due to war or unsavoury regimes are not the most original of subject matters, so it is refreshing to see work that depicts the more mundane aspects of everyday life, albeit with a twist. Egyptian artist Ayman Ramadan has filmed a typical Iftar (the feast following the fast of Ramadan) in which a dozen workers have downed tools to gorge on one of the public tables of free food. The assembled mechanics, welders and carpenters are arranged in a horizontal frieze of reaching arms and nodding heads that recalls Leonardo's famous depiction of the 'Last Supper', down to the atmospheric lighting and traditional dress of the disciples.
Although two millennia and a religious chasm separate them, Jesus might not have looked that different from the poor Cairo Street worker in the centre of this slow moving film.
Ramadan's compatriot, Wael Shawky, gained some notoriety for his video, 'Cave', in which he walks around a brightly lit supermarket breezily reciting the Koran like a breakfast TV reporter. His latest work is even more blasphemous - or celebratory, depending on how you view it - presenting as it does the famous A-Aqsa mosque in Jerusalem as a computer animation, rotating on its axis and rumbling menacingly like a CGI space station. This representation is no more offensive than a nearby plastic alarm clock version of the same holy mosque, but presents an altogether darker vision of the Muslim behemoth spinning out of control. Quite why the exhibition has this portentous and foreboding atmosphere is unclear, although the shadowy industrial surroundings provide no end of edginess. Without many moments of hope or light in the show, we can only trust that the non-indigenous curators have portrayed the artistic mood of the Middle East accurately, just one of many elements here that have to be taken on good faith.
Ossian Ward
AVENGE BUT ONE OF MY TWO EYES
by AVI MOGRABI
6 years ago - 20/08/2007
Israel/France 2005, 100 minutes
During the last week of
RECOGNISE
, there will be a special screening of Avi Mograbi's remarkable film
Avenge But One of My Two Eyes
on Sunday 2nd September 2007, 4pm at the Contemporary Art Platform. In association with
Second Run DVD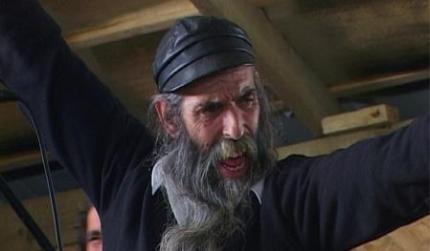 "
Avenge but one of my two eyes is one of the great essayistic films of modern times
" - Mark Cousins (author, The Story of Film)
Shot in the Occupied Territories by Israeli director Avi Mograbi, this controversial documentary film draws parallels between the Israeli - Palestinian situation today and the enduring myths of Samson and Masada. Mograbi offers a powerful, at times chilling, lament of the continuing cycles of violence rooted in the past and threatening to engulf everyone's future. With the roots of so much real-world conflict left unexamined by today's restless media, this film reminds us just how vital filmmakers like Avi Mograbi are.
Documentary today is rarely immersed in questions of this magnitude - or tackles them with the level of eloquence shown here by Mograbi. An exceptional and challenging film. Unmissable!

Contemporary Art Platform,
1 Thane Villas, London N7 7PH
077 344 340 66
Sunday 2nd September at 4pm
Admission is free but places are limited so please RSVP to Predrag Pajdic on
[email protected]
MIDDLE GROUND
Review by Martin Coomer
6 years ago - 19/08/2007
The Big Issue
August 13 - 19 2007, No.757
Part of London-wide season of exhibitions and events about the Middle East, Recognise organised by curator and artist Predrag Pajdic, focuses on art inspired by - or produced in - the region, and aims to provide an alternative to images of conflict and destruction delivered by media. In doing so, the show allows various voices - Muslim, Jewish, Christian and atheist - to speak through an impressive installation of film, photography and sculpture.
Whilst being political, the work is also elegant and poetic and, in this vast, semi-dark warehouse, much of it is lent an air of disarming theatricality. In his film Iftar, Egyptian artist Ayman Ramadan presents a group of men breaking the daily fast in painterly shadows complete with an Arvo Part soundtrack. Holland-based Iraqi artist Nedim Kufi shows two large photographs, one of a toddler proudly holding aloft a tricycle in a courtyard, the other the same courtyard poignantly empty - an illustration of the gaps in family albums caused by war and displacement.
While these pieces provide the most instantly memorable images, the real meat of the show can be found in the second space where rows of metal shelves contain a dozen or so video monitors. Pacing these narrow avenues, you're bombarded by sound and imagery so that an atmosphere of discordancy occurs, intentional or otherwise. There's anger, wit, reflection and irreverence here.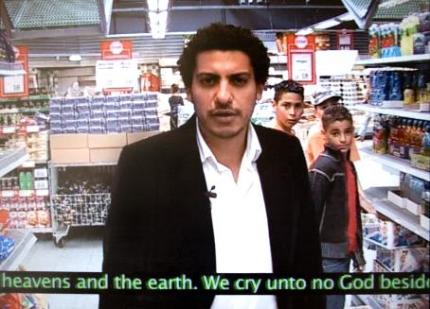 WAEL SHAWKY, The Cave
, 2005, video still
In his video The Cave, Cairo-based artist Wael Shawky walks round a supermarket reciting a chapter from the Koran, a comment about knowledge and power and the uneasy relationship between religion and capitalism.
In Marco Polo, by US artist Lisa K Blatt, pensioners in a swimming pool play a version of the children's hide-and-seek game, shouting out "Osama" and "Bin Laden" instead of the name of the Venetian explorer. By contrast, Lebanese artist Ali Cherri's In Cercle Autour Du Soleil, is a quiet meditation about taking refuge in the 'nowhere' of darkness.
If at times some of the exhibits are in want of interpretation, the show truly fulfils Pajdic's intention of presenting a complex portrait of a part of the world so often reduced to and defined by intractable arguments.
YOUR COMMENTS
6 years ago - 19/08/2007
An exhibition I can't forget. The atmostphere immediately takes one onto another plane. A dark ware house empty except for metal stoarage shelves, televisons playing images again and again on a loop. Images which are challenging, images that disturb, images which tell the truth that is painful to hear. All the time one screen shows elderly europeans in a swimming pool shouting Osama.. Bin Laden. It becomes the background noise of the whole exhibition. At first irritating and then as one thinks about it one realises the message- that name is the background noise to all our lives... the fear unthought but there, whether on the tube train, the bus or at an airport. I would recommend everyone to go to this exhibition not just artists but anyone who has a conscience, or who would like to have one. When you go it is hard to find the entrance look for a large red container and duck under the pull down warehouse opening behind it.
Diana Thomas
AUGUST
by AVI MOGRABI
6 years ago - 13/08/2007
Sunday 19th August, 17.00
As part of RECOGNISE, there will be a drink reception with a special screening of Avi Mograbi's remarkable documentary film AUGUST on Sunday 19th August 2007 at the Contemporary Art Platform.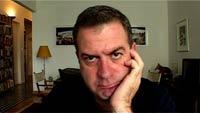 AVI MOGRABI
AUGUST - a moment before the eruption
72 minutes, 2002
Peace Film Award - Berlin International Film Festival 2002
Avi Mograbi believes that the month of August serves as a metaphor for whatever is hateful in the state of Israel. His wife, on the other hand, is rather fond of August, which represents to her all that is optimistic. And indeed, the filmmaker goes out to the street, and on one hand loses control over what is captured by his camera. Yet, on the other hand, he miraculously tells, by his failure to accomplish his mission and document what he was after, that very story, though in a totally different way from what he planned and without being aware of it at all. At the same time, in his home, his wife is taken captive by the producer of another film. This filmmaker is involved with a film concerning the massacre of tens of praying Moslem prayers by an Israeli physician in the cave of Machpela in the occupied town of Hebron in 1994. All three characters - the filmmaker, the filmmaker's wife and the producer - are played by one person: Avi Mograbi. "The idea behind August was very similar to the one proposed in the film by the filmmaker's wife: to make a film that would consist solely of violence, bickering, and anger. Just that. This is Israel, wherever you go, everything is fraught with violence." Avi Mograbi
Contemporary Art Platform,
1 Thane Villas, London N7 7PH
077 344 340 66
Sunday 19th August at 5pm
Admission is free but places are limited so please RSVP to Predrag Pajdic on
[email protected]