IN FOCUS
by Predrag Pajdic & Paul Ryan
The ongoing events in the region generate a flow of images including those of war, destruction and conflict. These images find their way to media audiences. Unbidden into the subconscious, these are the representations that emerge from the mind whenever the worn out term 'Middle East' is mentioned. 'In Focus' is here to challenge these depictions by showing a number of international contemporary artists whose work relates to that area but challenges stereotype.

The art world 'spotlight' moves from place to place, often drawn to a region by seismic shifts in terms of politics, economics or conflict. This has happened in Russia, China and now the Middle East. This temporary alighting of the attention of international curators and critics has two potential outcomes. Firstly that a new list of artists emerge, soon to be passed over again as a new geography opens up, or secondly the opportunity is grasped to re-evaluate the preconceptions held concerning a region. For this latter, more groundbreaking shift to happen, the artists need to be intelligent and lucid and these qualities need to be reflected in the meaningfulness and power of their work. We strongly believe that 'In Focus' shows that we are in that position for a new paradigm in conceptions concerning an ancient and thriving territory. This means consequently that those artists will not be passed over but must have a lasting impact in the canon of contemporary art.

How can a methodology be developed to curate when we no doubt carry preconceptions and judgements? There will always be those enquiring into such questions and they are drawn together, and recognise each other by their common goals. The goal is to re-define, or re-present through dialogue rather than re-enforce. This is the unifying goal at work here. In that respect the 'feeling' one recognises when someone can say something in a recognisably fresh and new way, and yet it still has a 'flavour' of truth, that feeling becomes the first criterion for selecting artists. The second criterion concerns how the materials adopted by those artists, and the way they are using them communicates what they have to say in a similarly inventive way. Here the causes and effects of their environment must be somehow experienced, making the travelling of the curators to the region imperative, and the meeting of the people and seeing first hand their circumstances essential. Thirdly, there already exists a dialogue to which we intend to contribute, and broaden through understanding. This will remain unlikely while we remain ignorant of what precedes in the discussion, a thought that must act as a catalyst to understand further and engage with the complexities by which we are challenged. This semeiotic approach is inclusive and re-enfranchising through our feelings, often not the case when historical, critical or philanthropic motives are at play.

It cannot be denied that 'In Focus' has also appeared during the time that the 'spotlight' is on the region it addresses. It must steer between the Scylla of Orientalism, and the Charybdis of conflict in order to begin to address the complexity of the myriad of differing cultures, religions, and landscapes of this part of the world. It aims to achieve that by including those artists whose strength lies in their work, not in the strength of their political or religious views: although they will have these also. Art is always political. To be an artist who excludes politics from their work is also to be political, in the same way Atheism is a religious dogma. By avoiding these false dichotomies, 'In Focus' seeks to avoid positioning anyone as the other. At the same time, not everyone will agree that this is a viable stance, and they must also be allowed a voice. The method to achieve these aims is attention, or focus on a new visual culture from a new Middle East.

Many recent exhibitions have reinforced geographical, language or religious stereotypes. Whilst researching and collating material for this programme, threads have emerged which can be indicated as being of general human interest: sex & identity (Akram Zaatari, How I Love You, 2001 and Ahmed Khaled, The 5th Pound, 2005), memory & history (Rabih Mroué, Face A/Face B, 2002 and Lamia Joreige, Replay (bis), 2002), politics of travelling (Emily Jacir, Entry Denied, 2003 and Maja Bejevic, Le Voyage, 2006). Even within the subject of religion it has been noted that many of the artists' interest lies in collapsing perceived differences rather than reinforcing them, (Ayman Ramadan, Iftar, 2004; Wael Shawky, The Cave, 2005 and Shady El Noshokaty, The Breath, 2007).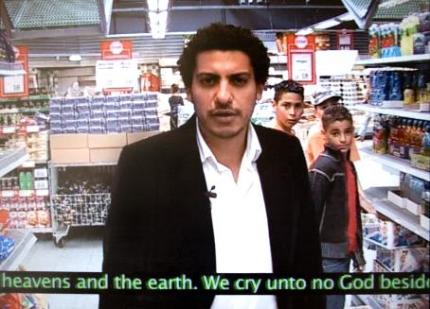 WAEL SHAWKY
THE CAVE, 12 min, 2005, video still
Courtesy of the Townhouse Gallery, Cairo and the artist

This programme of events across London during summer 2007 includes screenings, talks, performances, exhibitions and interventions selected from a dazzling range of artworks, which are nevertheless still a small survey of a vast and diverse array of international artists addressing the region. In addition, the publication and website is a record of many dialogues with those artists, giving them a voice to communicate their own thoughts about their work which together begin to depict a new vision of what it means to be Middle Eastern: whether that means being Christian, Jew, Arab, atheist, man, woman, black, white, young or old…

There is also a responsibility for 'Western' artists who address the region, and several have been commissioned to respond with this in mind. The dismantling of old, blurred labels may even lead to artists being referred to only as 'artists', without a further adjective for their geography. London after all has multicultural and international artists and audiences, who are also addressed by these same blurred labels. The 'spotlight' encourages artists who can, to benefit from a label, so it is important to avoid cynicism over this issue while change is in flux. The spotlight may in the future turn to a US in crisis and the artists' response there, but the highly intellectual, brave, talented, international, multilingual artists included in 'In Focus' will have already taken their permanent places in the global culture hierarchies that will do the assessing.

London, March 2007